GUM PLASTIC SURGERY
The gums are probably one of the most important aspects of the patient, a healthy gum will be one that is well adhered to the tooth, and be free of inflammation of a pinkish color. Multiple systemic diseases produce visible signs on the gums, also sexually transmitted diseases and other predisposing factors such as diabetes, hormonal alterations in women, certain drugs, pregnancy as well as diseases of the oral cavity may be a gingivitis or periodontitis.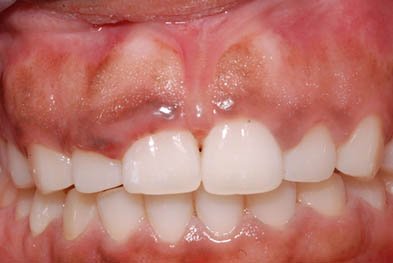 Gum Covering the upper and lower Teeth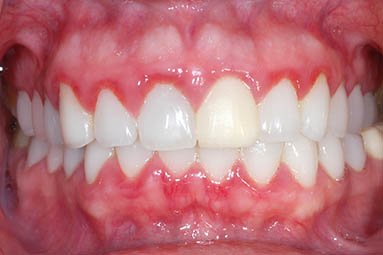 Patient With Gingivitis
Why have gum plastic surgery?

It can be done simply as an aesthetic option, some of this type of treatments are required from patients to solve the "Gummy Smile", a gum recession due to periodontal diseases, gum necrosis, bone loss are other reasons to have periodontal plastic surgery. In other certain treatments such as orthodontics may cause abnormal growth of gum.

In the case of gingival recession, the goal of surgery is to restore the gum to its original place, because when there is a recession, your teeth may appear to be larger plus it usually leads to bone loss and this in time will retain more food between their teeth causing other more serious damage to medium and long term.
Gum Covering the upper and lower Teeth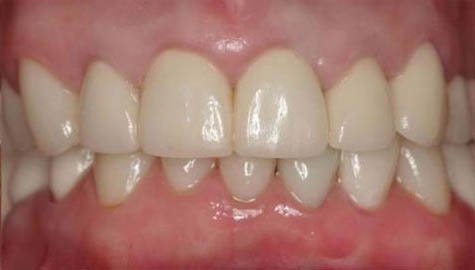 gum contouring and new crowns placed

How is it done?

The most common method is the use of a scalpel, which recontour the gum giving a more normal appearance and covering the tooth portion located below the gum line in cases where the gum has developed an abnormal growth . Other equipment that can perform this treatment is laser or electrosurgical equipment, both are better in terms than old traditional methods avoiding bleeding, improving the healing process and obtaining a more predictable results..

When the goal is to return the gum to its original place in cases of gum recession due to loss of periodontal bone, bone grafting procedure is performed along with soft tissue grafts, which in some cases can be used autologous soft tissue taking them from other areas of your mouth and positioning them in sites needed.